12
Welcome to the Pirates of the Caribbean character list Wiki!
Edit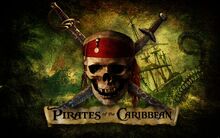 This wiki is an informational guide to Pirates of the Caribbean characters, locations, ships, ect.
Please note: This wiki is a work in progress. In other words it's not finished. If you know a lot about Pirates of the Caribbean than please contribute and add pages, videos, images, or blogs.
Featured Article
Edit
Davy Jones is the captain of the Flying Dutchman and it's crew of sea creature-like pirates.
Who is your favorite crew member of the Flying Dutchman?
Ad blocker interference detected!
Wikia is a free-to-use site that makes money from advertising. We have a modified experience for viewers using ad blockers

Wikia is not accessible if you've made further modifications. Remove the custom ad blocker rule(s) and the page will load as expected.